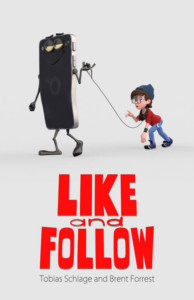 Synopsis:
When a kid starts spending time in the real world, it's up to his smartphone to bring his attention back to where it belongs.
About Like and Follow:
Like and Follow is a 3d animated short film created by Brent Forrest and Tobias Schlage. It follows the story of a little boy that cant see anything but the display of his smartphone. Each time he starts to realize the beauty and dangers of the world around him his smartphone forces his attention back to the screen. The production of the film started in spring 2018 and was finished in April 2019. During 2019/2020 the film played at numerous festivals around the world and won several awards.
Director Statement:
I was for many years one of those smartphone refuseniks. Until one day my commuting time became very long. So I got an old iPhone from my brother to kill the time on the train. Suddenly my daily life changed 180 degrees. I didn't only use it on the train to kill the time but day by day it consumed me more, prior to that I was looking around at people, at trees, at my surroundings but suddenly I looked at nothing but the phone, losing myself entirely in those few centimeters of the display. It felt really odd when I realized what was happening to me and that's how the idea came to capture this weird feeling in a film. Nowadays I am, as most people used to it and it is a normal part of my daily life to stare at it all the time, but I do think we all should be aware of how much time we spend staring at the screen, and look up once in a while, or else we might miss out on life.
– TS
Timely and important theme, beautifully and joyfully animated. I LIKE it!
Like and Follow is a genuinely funny production. And it's even better when you discover the rather humorous and unexpected twist at the end. I've seen 2 hour-long comedies that have made me laugh less than this 2 minute film did!
Real awesome! Animation real nice and really cool concept.
Very polished CGI, great movement, expression, no short cuts on details, water drops on eyeglasses etc. Also a topical message to boot. A great job….You should be proud of this short film, a GREAT job!
The jury instantly went crazy. It's clever, it's honest, it's under 3 minutes… some mind-blowing stuff.
Well made, obviously, but with clever and economical storytelling – and the twist at the end nicely counterbalances any accusations of overt sweetness.
Credits:
Written, Directed by
Tobias Schlage and Brent Forrest
Modelling & Animation by
Tobias Schlage and Brent Forrest
Music Composed by
David Arcus
Rigging & FX
Brent Forrest
Lighting & Rendering Supervision
Mohammed Hamid
Lighting, Shading, Rendering
Shoma Mizutani
Filipe Ferreira
Ogulcan Tayman
Compositing
Lukas Przybylski
Rajdip Chakraborty
Mohammed Hamid
Rigging support
Jean-Baptiste Bongrand